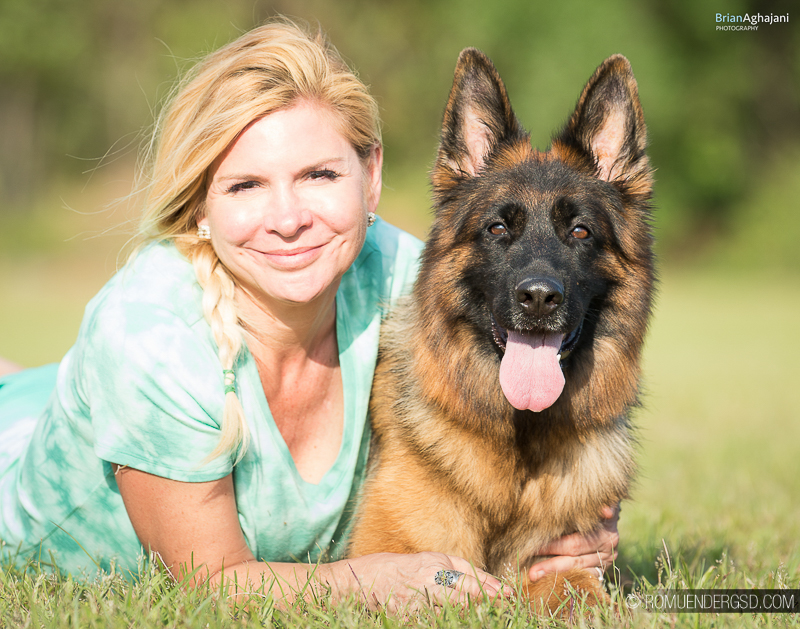 Our Story
Hi there and thank you for wanting to know more about us here at German Shepherd Dog Breeder Romuender German Shepherd Dogs. Our journey into this world was fate from our past. My paternal Grandmother and her family, the Romuender's (from Germany) had the first German Shepherd in our family! It's funny to say my very existence came from the relationship of my father's German Shepherd and how he met my mother.
You see, my father was a traveling salesman in the US on his motorcycle with his female German Shepherd Heidi on the back as co-pilot. Heidi was trained by my dad and literally would ride on the back wearing goggles. Can you imagine the sight as people passed by? My father was staying in my maternal grandparents motel with his dog, when he saw my mother, a schoolteacher leaving from having morning breakfast with her parents. It was Heidi who came up to greet my mom. Needless to say, my parents married three months later and now have been married over 50 years. Way to go Heidi!!! Even after they married, my mom was always worried Heidi felt that she had stole her man. Until one day, Heidi saved my mom's life from an intruder in my parent's house when dad was not home. It goes without saying these dogs really are loyal to family and everyone we consider family.
My husband Tim and our two sons, Brendan and Kam, continue this adventure with more stories on being a German Shepherd Dog Breeder with our friends. I am thrilled you are considering these wonderful dogs, and I hope someday you too can join our family!
Where truly, at Romuender German Shepherd Dog Breeder, Our dogs Are family!